written on 2016-02-07
Trippin 'n slippin
Last summer my friend Roj and myself drove from Berlin to Sardinia, and back, on one scooter.
It was the BEST. HOLIDAY. EVER.
It had ups (2.757m - going over the Stelvio pass) and downs (0m - drinking beers on the beach).
And boy was it a pain in the ass.
Was it worth the effort? I am already planning my next Vespa adventure!
Packing the bags
Before you sit your ass on the saddle for 4000 kilometers, you will think twice about the stuff you need to bring. Especially when it all has to fit on a Vespa and you are going to carry it with you all the way. But no matter how long you think about it, only practice gives you the real answers. In our case, judging based on the look of our luggage rack, we took too much, and forgot some things as well.
This is rougly what we took with us:
Since we would be in foreign countries where our data plan doesn't cover us, we would need a map, but not a map that only shows the highways, we needed more detail than that. Physical maps for Germany, Austria, Sardinia, Italy and Czech Repulic was going to be a bit too heavy to carry with us, and having some experience with Android development I created an app that contained the complete trail and map data around it. I also highlighted some OpenStreetMap data on it like campings, B&B's, waterfalls, caves, etc. The program we used to calculate the trail (BBRouter) included bycicle trails in the calculation as well (for the "moped" profile that we used). We didn't figure this out until being on the road. It did however bring us to some very beautiful roads, leading us through forests, along rivers, over mountain ridges and parts where only a bike would be able to get through (walking up some stairs) and where we hit a dead end.
We brought a backpack full of clothes that we attached to the front of the Vespa. This was allright but a lot off hassle to (un)mount every time.
Since we had a digital map and a camera for the timelapse, we would need a bunch of batteries to keep the electronics alive.
Originally my Vespa had a iginition that contained an extra spool for charging the battery but I had to replace the ignition once and lost the ability to charge a battery so all our charging had to be done at campings.
Our batteries lasted about 2 days without recharging.
We took 20 kilograms worth of spare parts and tools, we had a spare tire, cilinder, carburettor, cables, lights, a bunch of other tiny things and all the tools that one could ever need to take a Vespa completely apart.
Fortunately, the only spare parts we needed were (a lot of) inner tubes and a bycicle pump.
We had cups and a stove but we totally forgot to bring a pan and forks / knives, we later bought this on the way.
We got a tent from Christiane (thanks again =) and ordered sleeping mats and 1 sleeping bag online which got delivered to our home a minute before we started our trip.
Long way down
After a night of minimal sleep (the excitement took over) it was finally going to happen, we packed all our stuff, attached it to the Vespa and took off.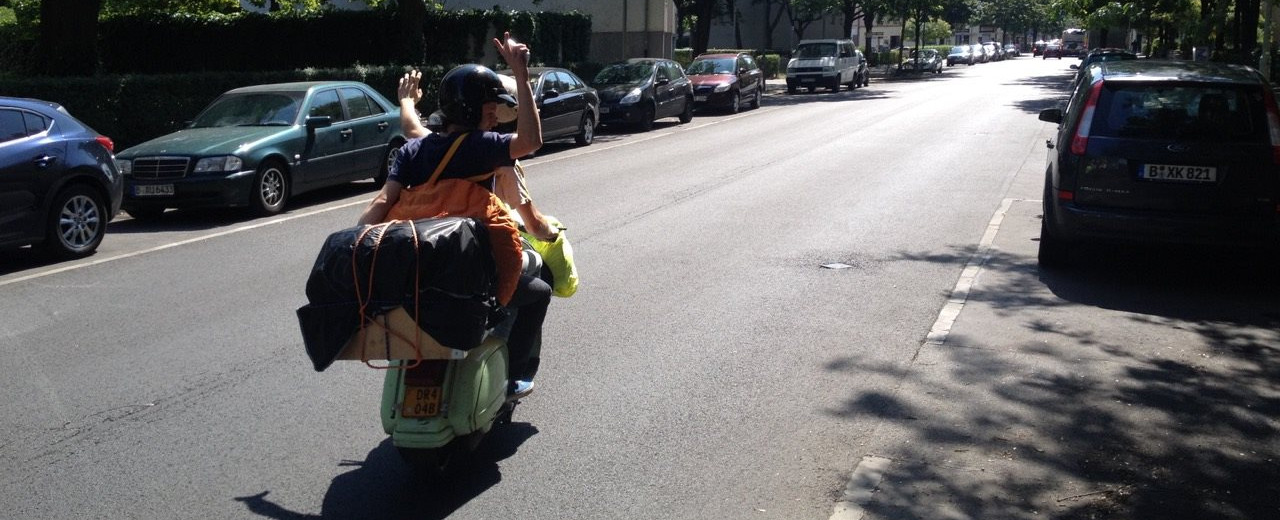 The cilinder was only recently replaced and the Vespa was being loaded to the max, which didn't really give me a comfotable feeling at the start, but after leaving Berlin without any problems, the confidence started growing.
We drove through some beatiful landscapes, saw a cool bird and suddenly heared a loud BANG.
The hot fumes from the exhaust had burnt a hole through the outer and inner tube of our spare tire, it could have been worse...
Being confident that I filled the Vespa up (with fuel) a day before leaving, I forgot that I drove a long distance that day to get the Camping Gaz bottle and so we ran out of fuel in the middle of a forest.
Luckily, the tankstation was near and it was mostly downhill to get there.
It all seemed to go well from that point on, until we stopped for a pizza and our rear tire had magically turned flat while eating it.
The last spare inner tube got installed but our pump didn't really work so I starting walking to the tankstation (4km away from where we were).
After a minute of walking I asked a man standing in front of his house for the directions just to make sure there is no other tankstation more near.
He takes me inside of his garage to surprise me with the sight of a compressor. We were back on the road in no time (thanks old man!).
We made it to Leipzig, and took some rest at a camping. Quite some adventures for a single day!
Day 2
We were looking for a nice breakfast in Leipzig, and found it on a sunny square where we also found out that our luggage rack was not horizontal anymore. It looked pretty bad and we needed to find a solution immediatly. Upon calling some companies, we convinced one man to help us out, he welded in some support studs, and we were on the road again!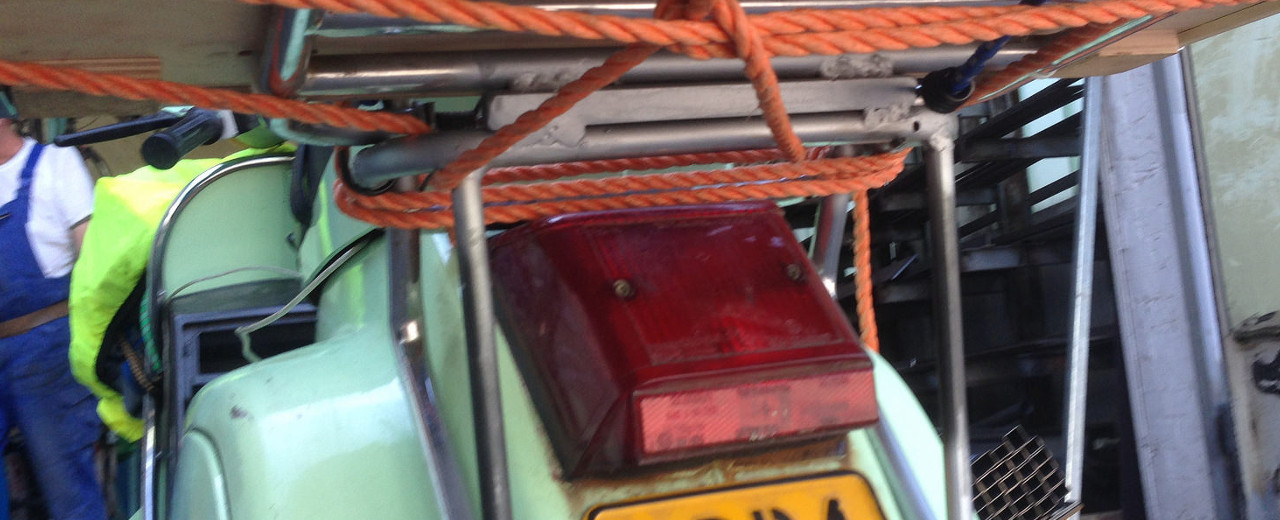 Day 3
Day 3 was pretty smooth, we bought a tire-fixing-kit (Flickzeug in German) and ended up an a beatiful camping where we suspected the exhaust being to close to the rear tire being the cause of our breakdowns. So we unscrewed the rear tire and while doing that we heard the air come out of it... Luckily we had bought the Flickzeug and were able to do a repair on the spot.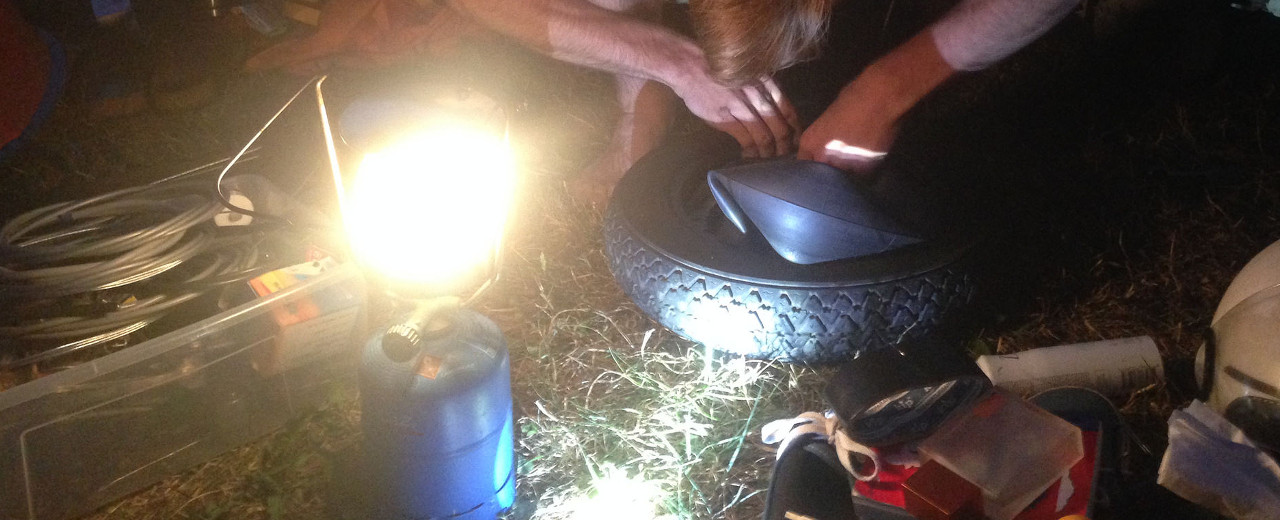 Day 4
We made it to Munchen, stayed at a great Camping where we met some great people (The Tent) and took an extra day to visit the City where I got to swim in the Isar.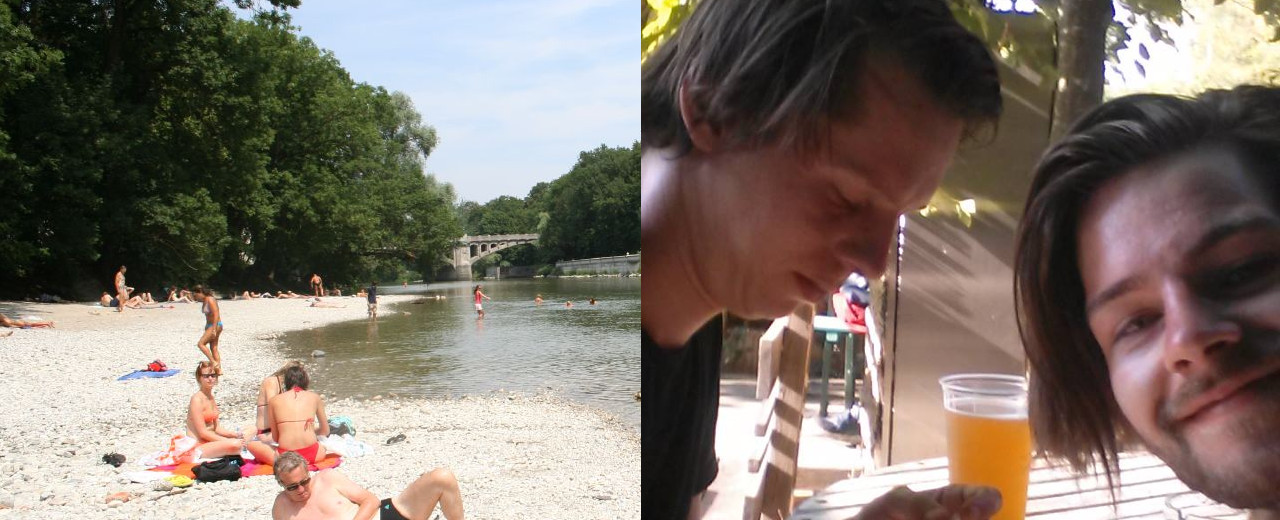 More coming soon...
A little elevation profile from Berlin, DE to Parma, IT.
Pictures made by Roj on the back of the vespa
Timelapse (which unfortunately only shows small segments of the trip)
The title of this post was inspired by this song from my favourite band
A rough outline of the trip